#Bitcoin

$26537.53

22 Sep 2023 03:24
Latest trades of other traders in real time (
#Bitcoin

)
Learn more about Bitcoin Cash
History
Bitcoin Cash was created as a result of a hard fork of Bitcoin in 2017. The hard fork was the result of a proposal by a community of developers who wanted to address several shortcomings of the Bitcoin protocol and improve it. The first issue was scalability. Initially, Bitcoin's 1 MB block size was enough to ensure sufficient transaction speed. However, when BTC became increasingly popular, its transaction speed fell drastically, with transaction validations sometimes taking up to several days. There were two ways to solve this problem - either increase the block size or transfer some data out of the blockchain. Bitcoin Cash took the first route, increasing the block to 8 MB and later to 32 MB. Another disadvantage that Bitcoin Cash focused on was high commission fees. Sometimes, making a high-priority BTC transaction costs tens of dollars. In addition, Bitcoin Cash proponents believed that Bitcoin should have been primarily a payment system and not an investment asset. Resolving these issues demanded either adopting the new rules for the entire blockchain or forking it. As a result, the Bitcoin Cash hard fork was established after a community vote. Following the hard fork, users who chose to switch to that version of the blockchain became owners of BCH. Every 6 months, Bitcoin Cash receives an update. There's been several BCH hard forks, usually following contentious updates. Bitcoin SV and Bitcoin Cash ABC are examples of such forks.
BCH and BTC
Bitcoin Cash and BTC are related and have several common traits, as well as differences. First, let us have a look at the similarities between BTC and BCH. Both cryptocurrencies have the same maximum total supply of 21 million coins, which are created by miners by performing complex calculations on specialized hardware. Furthermore, both BTC and BCH cut block rewards in half after a specified period (halving), with the reward currently standing at 6.25 coins for both Bitcoin and Bitcoin Cash. There are notable differences between BTC and BCH, however. As stated earlier, Bitcoin and Bitcoin Cash have different block sizes, but it is not the only thing that separates the two cryptocurrencies. BTC and BCH have different commission fees. For example, Bitcoin's fees at the moment of writing stood at $1.5, down from $60 in spring 2021. Bitcoin Cash's transaction fees, on the other hand, never surpassed $1 and are currently at about $0,004.

Furthermore, Bitcoin Cash is much faster than Bitcoin, reaching speeds of more than 100 transactions per second compared to Bitcoin's 7 transactions per second. However, Bitcoin Cash's price and market cap is significantly lower compared to Bitcoin's. At the moment of writing, BCH traded at $355.93, while BTC was valued at $42,240, 119 times higher than BCH. The gap between the two market caps is roughly the same, with the capitalization of Bitcoin Cash and Bitcoin being $6.8 billion and $802.2 billion respectively. Thus, Bitcoin Cash is quite capable of performing the functions of an accessible and popular payment method. Bitcoin, in turn, is better as an investment asset.
Bitcoin Cash's price chart
As stated earlier, BCH was valued at $356 at the moment of writing. It is the 24th largest cryptocurrency by market cap and the 8th top cryptocurrency by price. How has the asset performed since its launch? In the first month after launch, BCH traded between $233 and $767. Its volatility was due to several factors. On the one hand, it attracted attention thanks to its status as a fork of Bitcoin. On the other hand, people were understandably wary of the new cryptocurrency. However, BCH broke above the $1,000 mark several months later, reaching its all-time high of about $3,770 by the end of 2017. Since then, Bitcoin Cash has been unable to surpass this all-time high, achieved amid an overall upturn in the crypto market that year.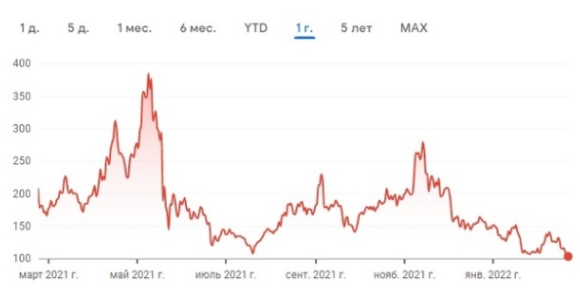 However, Bitcoin Cash plummeted more than tenfold in 2018. Eventually, in December, its average price fell to $76.93, its all-time low. In 2019, BCH underwent an upward correction. The coin was trading as low as $114.69 and as high as $482.04. If we look at the chart of Bitcoin Cash's performance against the US dollar, we can see that there were no serious price swings in 2020. At the beginning of the year, the coin traded around $205, rising to around $350 by December.
Yearly performance of Bitcoin Cash
The crypto uptrend of 2017 was followed by another bull run in 2021. The crypto market cap exceeded $2 trillion and later hit $3 trillion. Many cryptocurrencies hit new all-time highs in 2021. The same cannot be said about Bitcoin Cash. Even though BCH did increase, it failed to surpass the level of 2017. The cryptocurrency's first major breakthrough occurred in April 2021, when it rose to $1,130. Of course, this is not much compared to the level of $3,770 it hit in 2017. However, it is still a quite substantial advance. Several years before that, the coin did not reach $1,000, and sometimes failed to hit even $200. One month later, in May 2021, Bitcoin Cash went up to $1,550, only to drop below $700 a few weeks later. Until the end of 2021, the asset fluctuated but did not make significant moves in any direction. In the remaining months, BCH stayed in the range between $400 and $786. During the first months of 2022, Bitcoin Cash was in a downtrend. BCH traded at $431.5 in January and fell to $355.93 by the end of March.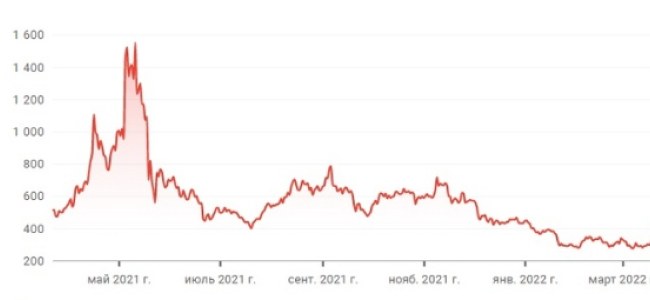 BCH lost almost 30% of its value over the past 12 months and dropped by 88% over the past 5 years.
Factors shaping BCH quotes
When Bitcoin Cash came along, analysts noted one peculiarity. When the price of the premier digital asset started to fall, the value of its forks skyrocketed. Keen interest in a new asset among investors and miners as well as the limited BCH supply explained this phenomenon. Bitcoin Cash did not immediately get on all exchanges. Moreover, when demand exceeds supply, the coin rises in value. Therefore, the value of BCH depends on the demand/supply ratio in the first place. In addition, there is a correlation with Bitcoin. Practice shows that when cryptocurrencies go down, it happens to all coins. Such a situation took place in 2018. However, when the market is bullish, each coin posts gains separately.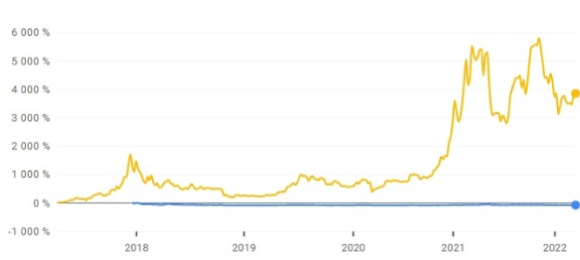 There are also many other factors:
1. Functionality. When the system increases the transaction speed, commissions decrease, the network evolves, and its digital asset shows strength;
2. Availability. The more platforms use the coin, the higher the demand and the price are;
3. News. Positive feedback about the coin makes it rise in value. Conversely, negative feedback causes a decline;
4. Economic health. When it deteriorates, crypto gains trust;
5. Government regulation. When countries ban or legalize digital money, crypto decreases and increases respectively.
These factors drive not only Bitcoin Cach but also other altcoins. In fact, they all are highly sensitive to each factor.
Where to trade
The daily trading volume of the altcoin totales around $2.3 billion. The article "How to buy Bitcoin Cash" will tell you more about the buying process. You should open an e-wallet before buying BCH or other cryptocurrencies. On the website of the altcoin, you can find as many as 24 storage options. The most popular wallets are Trezor, Exodus, Coinomi, and Ledger.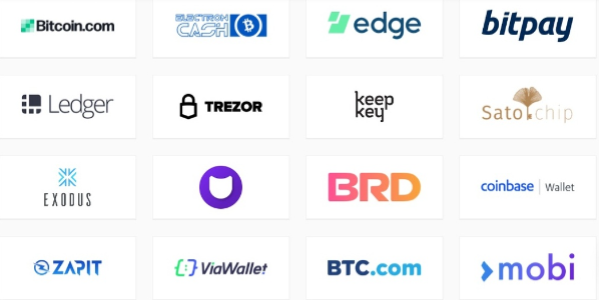 Still, it is important to remember that all wallets are different. Desktop versions are programs that are installed on a computer or a laptop. Mobile apps run on smartphones and tablets. Hardware storage is similar to a flash drive and is kept separately from user devices. Once you have a wallet, you can buy coins. They can be purchased on exchanges, via online crypto exchangers, or from other users. Crypto exchanges using Bitcoin Cash include IFXBIT, Coinbase, Kraken, Poloniex, Binance, etc. All in all, there are over 50 crypto exchanges. There are also many online crypto exchangers. You can pick one with the BestChange service.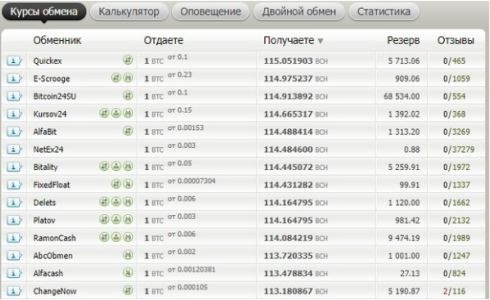 You can also purchase coins from third parties. However, there is a high scam risk in this case.
Why investing
The main thing about crypto that attracts investors is potential profit. The article "How to buy Bitcoin Cash" will tell you more about it. There are various strategies for yielding profits. Long-term investing is about buying and keeping coins for months and even years. When it comes to short-term trading, you can earn on changes in the BCH rate even within an hour. The main thing here is a timely response to price changes and to open a trade in the right direction. Over the last week, the altcoin gained 19%. This means that $1,000 invested in the asset would have turned into $1,190. Notably, Bitcoin Cash is not just a cryptocurrency but also a payment system. We have already told you about the fact that transactions in this network are not only cheap but also fast. So if you want to make transactions, you should definitely pay attention to this altcoin.
Mining
You do not have to buy Bitcoin Cash to own it. You can mine it. Read the article Bitcoin Cash Pooling about mining in a team. Let us make it clear that this altcoin functions on the SHA-256 protocol. It requires complex mathematical calculations to find the right hash and mine the crypto. Simply put, miners are in charge of verifying and validating transactions, which is necessary for the network to function. As we told you before, the reward for this is 6.25 coins. To engage in mining, you have to spend money to pay for electricity as well as to buy equipment. If you doubt the profitability of such work, it is better to compare the costs with the potential income in advance. Special services, such as Minerstart and CryptoCalc, will help.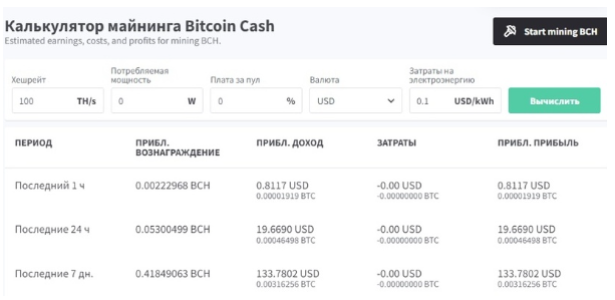 Now let's focus on the equipment. It must be very powerful. The reward goes to the miner who solves the block first. The higher the power of the equipment, the higher the chances for a miner to get a reward. The first time after the launch a good income was brought by mining on the video cards and processors. Lately, an ASIC, an integrated circuit designed directly for mining, has become the most relevant solution. Among the most popular ASIC-devices are Antminer S9, DragonMint 16T and others. At the same time, the price of new models exceeds $3,000.
Another way to get coins
If you are not ready to spend money on mining equipment, there is a more affordable way to get BCH. You can read about it in the article Bitcoin Cash faucet. To explain in simple words, faucets are special websites that allow you to generate cryptocurrency. To do this, you need to register with the platform and perform certain tasks, such as solving captchas, watching videos, and so on. When all tasks are completed, the coins are transferred to the user's wallet. It should be opened in advance. It can be a one-time income, for example, for subscribing to news, or it can be permanent when certain actions need to be performed regularly. Faucets exist through advertising, and part of the profits go to users. To get into the black with energy costs, you can register with several websites. Here are several popular faucets:
Faucet Crypto;
Crypto Fun Space;
Claimulike.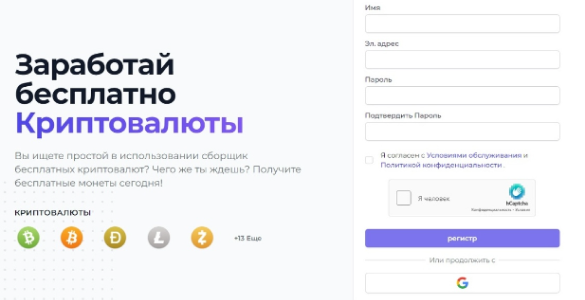 If you have decided to use a faucet, you should remember that the list of relevant services is constantly changing. Some websites leave the market due to inefficiency, and new ones appear in their place.
Conclusion
The No.1 cryptocurrency still holds the lead according to many indicators. It is the most expensive crypto with the largest market cap. Its share of the crypto market is 43%. At the same time, BCH, a fork of BTC, managed to remain popular and take its share of the market, getting a lot of supporters as in terms of transactions, Bitcoin Cash is more attractive than BTC. Moreover, some experts believe that this fork will be the most successful and even become more popular than BTC in the future. Anyone can invest in this token. All you need to do is to have funds to buy it and choose a reliable platform, such as the IFXBIT crypto exchange.
Why choose IFXBIT

Prompt response from professional support team available 24/7

Asset security guaranteed with two-factor authentication and SMS notification

Buy/Sell with the lowest trading commission of 0.1%

Invest in crypto and trade it from any device