#Bitcoin

$43396.29

08 Dec 2023 05:57
Latest trades of other traders in real time (
#Bitcoin

)
Learn more about Litecoin
History of Litecoin
The launch of the first cryptocurrency in 2009 provoked controversy in the market. Some said Bitcoin was another pyramid scheme and compared it to a bubble, while others invested in it from the start. Bitcoin proved to be a viable digital asset and was soon followed by altcoins. Today, there are more than 8,000 cryptocurrencies. Bitcoin was launched in the autumn of 2011, two years after Bitcoin. It was created by Charlie Lee, a computer scientist and a graduate of the Massachusetts Institute of Technology (MIT) who previously served as a Google engineer. In fact, Litecoin was an improved modification of Bitcoin. Apart from advantages, the latter has some serious drawbacks as well. Litecoin was initially perceived as the major competitor of Bitcoin and the number-one alternative to it. Yet, it was not what Charlie Lee intended to achieve. He thought of Litecoin as a more advanced version of cryptocurrency. LTC was intended to be a payment gateway for everyday and small purchases, while the mission of BTC was to enable large transactions. Litecoin became popular right from the start. Some say that the status of this altcoin makes it more trustworthy. The fact is that LTC was developed and released under the X11 software license which belongs to MIT, the world's leading engineering and technology university. Besides, its creator is a graduate of MIT. This is something that Bitcoin cannot boast of: the real name of its developer known as Satoshi Nakamoto is still not revealed. Five years after its launch, Litecoin became the second most popular crypto following Bitcoin. In terms of market capitalization, it has always been among the top 20 cryptocurrencies. Today, Litecoin operates as an electronic payment system with its own token, LTC. It enables users from all over the world to quickly exchange assets. Litecoin successfully functions in parallel with Bitcoin. Transactions that involve exchanging LTC for BTC and vice versa are very popular. Bitcoin is often called digital gold, while Litecoin is usually referred to as digital silver.
Litecoin features
Like many other cryptocurrencies, Litecoin is produced through cloud mining. To select the appropriate hash function, miners use the RAM of their computers. When a block is generated, its author receives LTC as a reward. Litecoin can be mined both independently and together with other users by joining a pool. The advantage of the first method is that one user gets all earned coins. In the second case, a pool combines the collective computational power of miners, which makes the output of LTC faster. Litecoin is a decentralized asset. It has no emission centers. That is, the only way to produce LTC is to perform mathematical calculations. Many people wonder how the value of LTC is determined in this case. The point is that miners use expensive equipment to mine Litecoin. The more money and effort they put into the process, the more expensive altcoins are sold then. Another important thing is demand for LTC. Litecoin is quite popular both as an asset for investors and as a means of trade and exchange operations between users. It is these two factors that determine the value of Litecoin.
Differences from Bitcoin
Since Litecoin is considered to be among the first altcoins, users often compare these two cryptocurrencies. They have both common features and differences. The coins have in common that they have a limited supply. True, the BTC supply is limited to 21 million coins, while Litecoin's maximum supply is capped at 84 million coins. Thanks to this, the assets are not vulnerable to inflation. Both cryptocurrencies are decentralized. They do not have a governing body controlling the system. Like BTC, Litecoin is based on blockchain technology, that is, a chain of transaction blocks. Although LTC was built on the basis of Bitcoin's original open-source code, it has a number of differences. Let's go through the main ones.
Algorithm. Bitcoin miners use the SHA256 technology, while Litecoin ones — Scrypt. The second algorithm is considered more advanced and modern than SHA256 created back in the early 2000s. In addition, it requires less processing power.
Speed. New Litecoin blocks are generated about every 2.5 minutes, which is four times faster than Bitcoin.
Resources. Litecoin mining requires fewer resources, which suggests its higher performance and energy efficiency.
Reliability. Since Litecoin is mined faster, attackers have less time to hack it. Besides, LTC is cheaper than BTC. So it is of no particular interest to hackers.
Address. A Bitcoin address starts with a number, while the first symbol of a Litecoin address is the letter "L".
Thus, LTC can be regarded as a lighter version of Bitcoin, which lives up to its name. At the same time, it is superior to the first cryptocurrency by many indicators mentioned above. The most important ones are cheaper and faster transactions.
Litecoin in dollars
LTC spent the first two years after launch trading below $4. The first significant rise was seen in 2013 when the quote jumped to $30. Many analysts attribute renewed interest in Litecoin to the personality of Charles Lee. The developer began working at major US crypto exchange Coinbase, which spurred demand for the coin he had created. Later on, the price of LTC fell again and traded below $10 over the following three years. In 2017, the cryptocurrency soared to unprecedented heights. By late 2017, the quote skyrocketed to $223 from $4.6 in January. In mid-December, Litecoin reached $360. Such a dramatic rise was fuelled by a number of factors. First of all, LTC became available on Coinbase. Secondly, traders gained access to Litecoin futures, which confirmed the cryptocurrency's reliability in terms of long-term investments. Thirdly, Charles Lee began to actively promote his product in the media and social networks. By the way, this caused a mixed reaction from skeptics who accused the creator of using his official position at Coinbase to market LTC. The coin closed 2018 at $30. In 2019, it peaked at $147. The year 2021 was marked by new all-time highs. Litecoin surged to $378 in May compared to $160 in early January. In the summer, its price sank to $118. In the fall, it settled at $279. At the time of preparing this article, Litecoin is trading at around $116.
Thus, the price of LTC has increased almost 30 times over the past five years. By investing $1,000 in February 2017, you could have earned $29,700 in February 2022.
LTC 1-year price history
Despite record highs in certain periods, the year 2021 was rather unsuccessful for Litecoin. The quote dipped to $147 in January 2022 from $159 in January 2021. What contributed to such swings? As a rule, the price rose, driven by the news about the development of LTC, and fell after these events dropped out of the news agenda. For instance, in the spring, Litecoin gained value after PayPal allowed customers to buy, sell, and hold cryptocurrency in their accounts. At the end of summer, the coin advanced on the news that Venmo included LTC in its services. Its autumn rise was largely due to the announcement of a partnership with Walmart, the biggest retailer in the US. True, it later proved to be a fake news release issued by Walmart. The year 2022 witnessed more losses than gains in Litecoin. At the moment, LTC is trading at $116. This is about 20% lower than at the beginning of the year.
When considering any cryptocurrency, one cannot ignore its market capitalization. This indicator shows the total value of all coins in circulation. As a rule, this figure increases when the quote rises and vice versa. In May 2021, the market capitalization of Litecoin reached an all-time high of over $25 billion. For comparison, in May 2013, its market cap was only $59 million. Over the past 12 months, this indicator has almost halved and is currently $7.9 billion.
Converting LTC to fiat money
If you want to convert LTC to fiat money, read the article 'How to exchange Litecoin for cash'. Over the years of its existence, this cryptocurrency has proved to be an effective investment tool. You can make money on Litecoin both with the help of long-term and short-term investments. However, LTC cannot be used as a means of payment for all goods and services. Sooner or later, each market participant thinks of ways to convert it into fiat money. Let's sort it out. The first option suggests using the services of a crypto exchange. A user simply purchases the desired fiat currency for coins by placing an order. Among the exchanges that support LTC are IFXBIT, Binance, Coinbase, and others. When real money is in your wallet, you can withdraw it to your card or account and use it at your discretion. Please bear in mind that exchanges charge a commission from 0.1% to 1% for withdrawing funds. Besides, you need to register and pass verification. The second option is exchangers. They can easily convert Litecoin to fiat money at the current rate. The most popular exchangers are RoyalCash, XChange, and others. However, they usually charge higher commissions than exchanges. After registering for the service, you need to select the direction of the exchange and follow further recommendations. Once you confirm the operation, the money is credited to your wallet. Another way to exchange Litecoin is a direct conversion with other users. You need to find someone ready to sell fiat money for LTC and exchange wallet assets on the basis of an agreement. In this case, you do not need to pay any commission. However, it is quite risky.
Purchase via WebMoney
What is WebMoney and how is this concept related to Litecoin? You will find answers to these and other questions in the article Buy Litecoin via WMZ.». For a start, you should clear up a few points. First, WebMoney is an international payment system that has been successfully operating for almost 25 years. The official statistics say that more than 45 million accounts have been registered with the payment processor. Second, transfer title units were created in the early 2000s. They represent equivalents of fiat currencies. WMZ is a transfer title unit of the US dollar which serves as a full-fledged payment means. It can be used in online shopping on marketplaces, to pay for some services, etc. To put it simply, WMZ is equivalent to the official US currency belonging to WebMoney. The main difference is that its exchange rate is determined by users on the grounds of supply and demand, not by banks. For example, on February 21, 2021, the official forex rate of the Russian ruble against the US dollar set by the Bank of Russia was 76.77. In WebMoney's Exchanger, the ruble was quoted at 75.76 against the US dollar. Creating a WMZ wallet is as easy as pie. You should select the appropriate function in your WebMoney account and the type of currency. In our case, it is equivalent to USD. After you deposit your wallet with WMZ, you can go ahead and buy Litecoin. Select the next step in the BestChange service.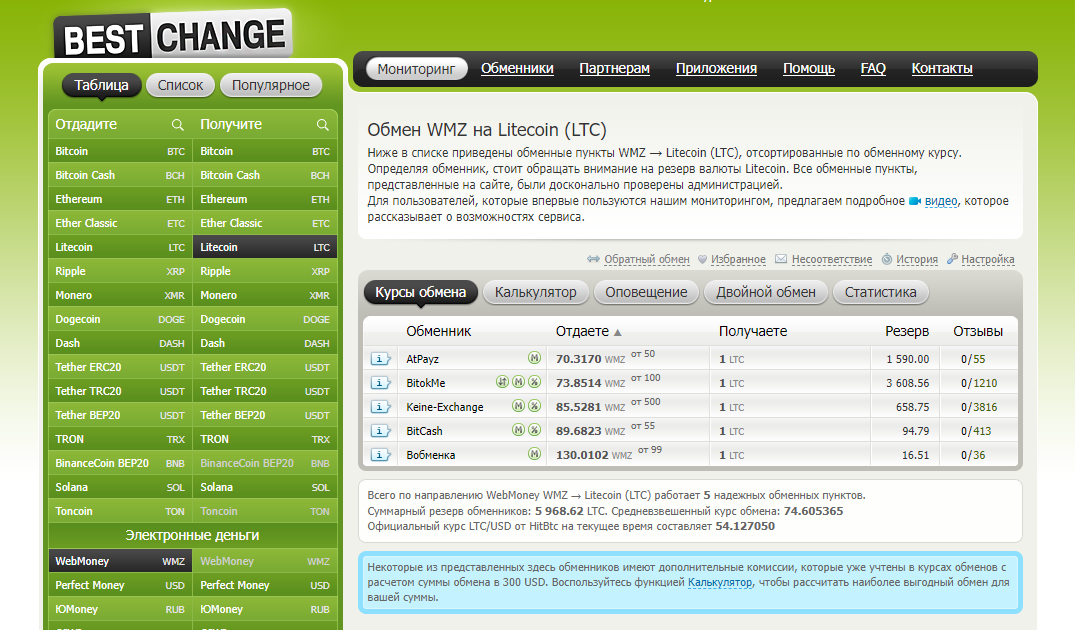 Transactions
You are certainly aware that one of Litecoin's advantages is a high processing speed. The article How to verify Litecoin transaction expands on the specifics of such operations with Litecoin. LTC blockchain looks like a sequence of blocks. Each of them stores records of transactions. For instance, if one user has sold coins to another one, this transaction is entered and displayed in the database. The details on previous transactions cannot be removed. All records stored in the blockchain are irreversible. Importantly, a transaction is confirmed not immediately but six blocks later. Bearing in mind the speed of mining one LTC block, a transaction is verified in 15 minutes. Therefore, users wonder how to check whether a transaction on the Litecoin platform is entered correctly. The solution is simple. Any transaction can be checked at no cost through special services created for this purpose. Here are some of such services:
Blockchair.com;
Chain.so;
Bchain.info;
Blockypher.com.
The proof takes a few minutes. A person does not have to download the service and sign up. All a user should do is enter transaction details requested by the system.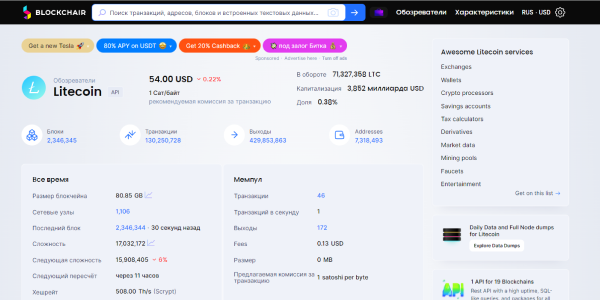 Apart from verifying transactions, such services update a user on exchange rates of cryptocurrencies, a trading volume, and an average speed of processing transactions.
Storage
An e-wallet is designed to store Litecoin and make transactions with it. Read the article Litecoin wallet to find out about the types of e-wallets and how to choose the one to suit your needs. The procedure for creating a Litecoin wallet is clear and easy. Even beginners can cope with it. An LTC wallet's owner is able to manage payments online and request statements on all transactions for a specified period. Like wallets meant for other cryptocurrencies, LTC wallets can be of different types. A hot e-wallet operates only if it is connected to the Internet. Cold e-wallets operate offline. Besides, e-wallets are designed as desktop versions and mobile versions for Android-based gadgets and iPhones. There are also e-wallets printed on paper bearing a QR code and hardware e-wallets. Each type of e-wallet has its strong and weak points and is picked to satisfy the needs of its owner. E-wallets also differ in the level of security. If a person gives priority to safety, it makes sense to choose something from hardware e-wallets. If a person attaches importance to convenience and fast transaction throughput, mobile and desktop software suits fine. Importantly, when a user makes a transaction with LTC, the crypto remains inside the blockchain. A crypto wallet provides its owner with a key which, in turn, gives access to digital assets.
Mining
As of today, almost 70 million LTC tokens have been mined worldwide, i.e. roughly 83% of the total volume. The article Miner for Litecoin will give you an insight into the specifics of mining tokens suggested by Charlie Lee. The mining process looks like creating and verifying new blocks inside the network. This work is carried out by miners. Let's compare mining with cooking a pizza. To bake an authentic pizza, a chef should follow the recipe with diligence and use the right ingredients. Speaking of mining, the ingredients here are mathematical algorithms and cryptographic puzzles. Miners employ special equipment. Commonly, a lot of miners combine their devices because it is hardly possible to mine a block on one's own. Miners are rewarded for this verification work with tokens. The reward is slashed twice after another 840K blocks are issued. So, a halving event occurs roughly once in every 4 years. Nowadays, a miner gets a reward of 12.5 coins. How to get started on mining Litecoin? First and foremost, please check whether your equipment matches up-to-date mining requirements. Such requirements are tightened on a regular basis. For example, speaking of mining video cards, mining Litecoin currently requires a GPU with at least 8GB of VRAM. Among popular and reliable mining GPU manufacturers are Nvidia and AMD Radeon. The next step is to arrange an e-wallet to store altcoins. Eventually, after you set up special mining software, you may go ahead with mining. You may download GUIminer, CUDAMiner, etc.
Outlook
Both experienced crypto traders and beginners are interested in the outlook for Litecoin. The article Intraday forecast for LTC will provide insight into short-term prospects for the altcoin. As for the forecast for 2023, analysts predict that Litecoin will be able to gain bullish momentum. Some LTC features, namely low transaction fees and prompt transaction execution, arouse interest among investors. Besides, the altcoin developers endeavor to enhance its confidentiality. If they manage to put this idea into practice, the information on transactions and e-wallets will be available only to the user. Having analyzed Litecoin's dynamic since it was launched, LTC quotes have been related to Bitcoin fluctuations. Analysts are bullish about the flagship cryptocurrency. Therefore, the odds are that Litecoin will also develop a rally. Market quotes of altcoins are sensitive to a variety of factors, but they are hard to predict. Altcoins depend on the state of affairs in the global economy, geopolitical events, and the fundamental background in the crypto industry. Unless force majeure circumstances show up, Litecoin could trade at $230 on average in 2023. The altcoin might hit a high at $260 and a low at about $230.
Conclusion
For the time being, Litecoin is ranked 20 among the cryptocurrencies with the largest market capitalization. Its daily trading volume exceeds $1 billion. The altcoin is listed on major crypto exchanges and its demand is on the rise. To sum it up, analysts foresee a successful year for Litecoin. It means that investments in this digital asset will bear fruit.
Why choose IFXBIT

Prompt response from professional support team available 24/7

Asset security guaranteed with two-factor authentication and SMS notification

Buy/Sell with the lowest trading commission of 0.1%

Invest in crypto and trade it from any device